Business Owners • Sales Professionals
Entrepreneurs • Non-profit Groups
Tired of wasting your money on
marketing that doesn't work?
You're not alone!
The fact is…
78% of my clients first contact me after wasting lots of precious time and money with boring advertising, "getting their name out there", and doing the same thing everybody else does… and getting ZILCH for their efforts.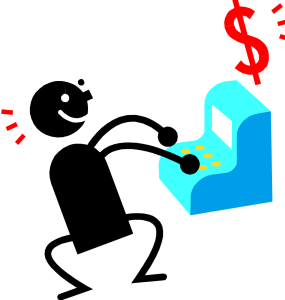 You see, most marketing fails because it's boring and focuses on "branding", instead of the reader and their needs.
Fortunately, there IS a better way to get better marketing results, online and offline… even when the economy is tanking.
Do you dare to be different so your cash register rings?
Get "outside-the-box" sales copy and marketing advice from a N.H.
copywriter who's trusted by business owners all over the country
to attract new customers, increase sales, and boost profits
"We get thousands of web visitors each month and average 10-12 people sign up daily for our E-mail Club. I highly recommend Merrill if you want to improve the response you get from your website and online marketing. He's professional, over-delivers, and has great ideas." Dave Whitehouse, General Manager, Red's Shoe Barn www.redsshoebarn.com
Be brutally honest with your marketing copy…



Do your emails, sales copy, web content, ads, brochures…

Get your reader's undivided attention?
Engage your reader's emotions and senses?
Show how your products and services solve their problem?
Offer proof you can solve their problem?
Differentiate you from your competition?
Convince them they'd be foolish NOT to hire you?
Tell them exactly what to do next?
If not, then you need the expertise of a copywriter like me.
"Customers routinely drive to my shop from several hours away just because of my website! Hiring Merrill to write my website and give me valuable ongoing marketing advice is a great investment". Greg Dollarhide, Owner of Seacoast Coin & Jewelry www.seacoastcoin.com
Frankly, no matter how professional and beautifully designed your ad, brochure, sales letter, or website is – it's useless unless it contains the right words and crucial copy elements that convey a powerful, relevant message directly to your reader's emotions and senses.
When you hire me to write your sales copy, it will include special secrets, elements and techniques to maximize the "art of persuasion".
Only then, will it compel people to take action and open their wallets.
Want your sales copy to get better results?
See how my copywriting and marketing services can help your business boost profits today!
If you have specific questions or would like to discuss an upcoming project or idea, Click Here to email me, or call me at 603-686-5140.
Merrill Clark
Crestview Marketing Services LLC
PO Box 376
Stratham, NH 03885
Phone: 603-686-5140