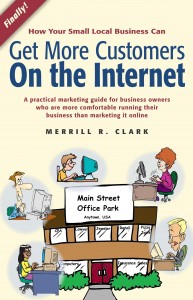 By the end of March, I'm hoping local small business owners in New Hampshire, and everywhere else will have a valuable new online marketing resource available.
My upcoming book titled: "How Your Local Small Business Can Get More Customers On The Internet" aims to fill the void between books that provide general marketing techniques for local businesses and ones that give online marketing tips for Internet Marketers.
It will be priced at only $24.95, so any business owner or sales professional will be able to afford it, and it includes 27 chapters chock-full of practical online marketing advice that any business owner can easily take advantage of. And it's all right here in one book.
And as a savvy business owner, you really can't afford not to pick up a copy of this book!
Plus, you'll even understand it because it's written in simple-to-grasp language, not for the technical crowd.
I'm working on a website for it as we speak…and will keep you posted on the progress.
To give you an idea of what kind of marketing ideas you'll discover in this book, here are the first 8 chapter titles –
CHAPTER 1 Does your business really need a website?
CHAPTER 2 And your website's primary purpose is
CHAPTER 3 Knowing your ideal online prospect
CHAPTER 4 If your site quickly answers these 4 important questions… they'll stick around
CHAPTER 5 The importance of a website's usability, design, and layout
CHAPTER 6 Why powerful web page headlines are vital to your success
CHAPTER 7 Web copy that sells
CHAPTER 8 Why you need a great offer and a powerful call-to-action
Okay…I promise to keep you up to date as the availability gets closer…
If you're a small business professional or owner who wants to find out how to market your local business using the power and reach of the Internet,  make sure you get your own copy from the first print run before they run out.
To guarantee your personal copy, email me today so I can add you to my pre-order list.
And visit www.webcontentNH.com for help with Website design, writing SEO copy, e-mail marketing, or other online marketing strategies.
To your marketing success!
Merrill Clark
Website and Marketing Copywriter