How to get your business listed on page 1 of Google's search results – even if you don't have a website
If your business depends on local customers, and want to get more of those customers, it's simple math…
You see, 86% of your potential customers will search for your products and services on the Internet. And of those people, 75% of them will use the king of search engines, Google.
So the more often your company shows up in the first page of search results when someone searches on your keywords, the more people will call you.
More exposure to your prospects = more customers and profits.
.
So how can you move up towards a top listing?
By optimizing your Google Places listing.
This is a cool feature from Google that kinda gives you a "mini" web page for free. First, they accumulate information about you from many other online sources like Yahoo, Bing, and other online business directories.
Then they compile the information they find into their own "Places" listing. And when someone searches on your type of business and adds a local identifier in the search (like a city, town, or zip code), Google will often list the local business "Places" listings at the top.
Generally speaking… the results are based on actual distance to your search and the relevance of your listing details.
.


You can beat your local competitors online

And get this… if your listing is optimized properly, you can still get listed with or above your competitor's listings… even if you don't have a website! (Of course, if you're in business, you put your company's future at risk if you don't have a website)

However, until you claim and optimize your listing, it's likely to contain wrong and outdated information about you.

After you claim your listing, you can add descriptions, categories, pictures, videos, and maps, which will all help in getting found online.

Not to mention, it includes its own analytics, by displaying the top keywords people are searching for when your listing shows up. It also shows you how many times people clicked on your listing, your website, and got directions.

Even though your Google Places is free, if you want to optimize your listing in order to get better results and rank higher than your local competitors, you'll have to spend some time learning the ropes…
.


But spending time to learn Google Places will be worth it

To find your listing, claim it, and start making changes to it, simply search on your business name or service and add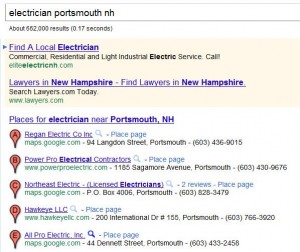 your zip code. Your local listing should show up with a little teardrop on the left, with a letter in it.
If it doesn't show up, you'll have to create a free Google account, or sign in to your existing one and click on "Places".
Don't wait to claim and optimize your listing!
Take advantage of it before your competition figures it out.
And…for a small investment, I can do all the work for you and optimize your Google Places listing so you'll start to show up on page one of Google's search results page more often.
Simply e-mail me or give me a call for details.
What are your thoughts?
If you need help with website design, writing SEO optimized web copy, email marketing, or other online marketing strategies, I can help!
To your marketing success!
Merrill Clark
Website and Marketing Copywriter
Join my discussion by leaving a comment below…