Have you run a space ad or mailed a postcard that didn't get the results you hoped for?
Well if you did, you're not alone. But the good news is you could improve response by just making a simple tweak.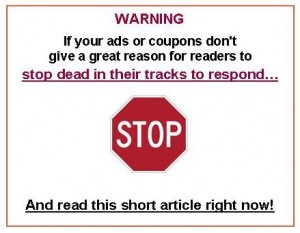 Even if your headline catches the reader's attention, the message makes sense to them and gets them excited, and your call to action tells them exactly what to do…
If there's no irresistible offer, or worse, no offer at all, then they ain't gonna respond.
I'm talking about an offer that's so good – your reader would have to be absolutely crazy to pass up.
Make a 2 for 1 offer, or add exceptional value by giving them a complimentary service or product with purchase. Another proven technique is to use scarcity, such as making a time or quantity limit to encourage response.
Example: "Only 5 available at this ridiculously low price", or "This special offer only good till midnight August 3rd", or "There's only 10 of these in stock, so call now to reserve yours"
It's weird, because I'll see bad and so so ads come across my desk, but I also see some good ones, too. But the good ones usually fall short, where it counts most -no offer or poor offer.
Remember, the offer is one of the most important and heavily tested component of any sales copy.
Fortunately, this fix can be simple:
(And it works on any marketing copy. Postcards, coupons, newspaper and magazine ads, online ads, web copy, email, and direct mail)
Either make your existing offer more appealing to readers, or if you don't have an offer at all, come up with one that will make them run, not walk to their phones to order.
 What do you think? (Leave your reply below)
If you need help with website design, writing SEO optimized web copy, email marketing, or other online marketing strategies, I can help!
To your marketing success!
Merrill Clark
Website and Marketing Copywriter
Join my discussion by leaving a comment below…