Do you use this powerful, simple, low-cost follow-up tactic to increase your profits?
I want to share with you this very short story that reminded me of one underused marketing idea that will kill two birds with one stone, so to speak.
After receiving items I'd ordered on-line for Christmas gifts, I was especially impressed by two of the companies.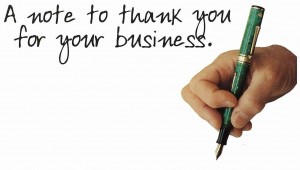 No… it wasn't the gifts that impressed me (though they were pretty cool, too), but actually the notes and cards that were tagging along in the boxes.
So what's this got to do with marketing and profits?
A LOT!
Inside both boxes was a simple note or card that accomplished several important tasks. (Actually five)
They personally thanked me for my order, showing some appreciation for my business. Plus, it was signed by a real person, not a company or computer. How many times do the businesses you spend money with show any kind of appreciation? In my opinion, not enough.
They offered a time-sensitive special 20% discount on any item I ordered from them before the deadline, and gave me a special coupon code to use. (This special code will also work as a great way for them to track response rate)
The order was another reason for them to follow-up with you, using the thank you reason. And every reason to "touch" your customer is a good one.
They included several ways to contact them to order, or if I had any problem with the order I just received.
They directed me to their special web page that had more special offers as up-sells. Up-sells can and do work well in many types of businesses to increase sales and profits at a much lower cost, because you're already on the customer's mind. Plus, they included separate mini-catalogs with some of their other products, too.
Now granted, these notes were from online businesses, but there's every reason in the world for you to use the same technique in your business, especially if it's a retail business, or you have a lot of foot traffic.
Put one in every bag you give a customer, or staple it to the invoice. It can be a note, a postcard, a short letter, or whatever… but do it!
Your only cost is printing, and the extra profits will be well worth it.
If you'd like to take advantage of this technique in your business, contact me, and I'll be happy to help you get it done!
If you need help with website design, writing SEO optimized web copy, email marketing, or other online marketing strategies, I can help!
To your marketing success!
Merrill Clark
Website and Marketing Copywriter
Join my discussion by leaving a comment below…
5 ways to get more clients from your home page