Can your prospective customers AND Google decipher your web copy?
Today… you're gonna get a short and sweet – but extremely valuable – website lesson…
First… you must understand that when you do a Google search, they try to display results they think are most relevant.
So let's look at a real example of a printing company's web copy to show you what I mean.
"The evolution of integrated digital printing as a service industry to the public domain has never existed on this level. Although the technology has been available for some time, machines like the DReAM machine have only been used for in-house production printing…"
First… when Google looks at the page, they can't tell what the company does (what does integrated digital printing really mean, and who is going to search for that specific phrase?)
Most people don't care about or read meaningless, corporate style, vague language (except for the person who wrote it).
Second… I'm guessing their visitors won't understand what this company does, either. (if they show up at all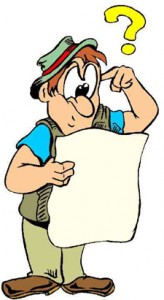 on the search results)
So… what does this company really do?
They print brochures, and postcards, and direct mail for small and large businesses.
What will most people likely search for?
Brochure printers, business cards printing, etc.
My point is this:
Make sure your web copy isn't a bunch of garbeldy gook, corporate style, fluffy, nonsensible words that sound impressive, but tell the reader absolutely nothing about what you do and how you can help them.
Write clear, concise, and descriptive words that include the language your target readers will be looking for.
Only then will you get a chance to get that new client. Nobody wants to be confused, ever!
If you need help converting your product or service, no matter how technical it is, into simple language that a 5th grader can understand, give me a call today.
How does your web copy measure up?

Let me know, just send me your comments below.
If you need help with website design, writing SEO optimized web copy, email marketing, or other online marketing strategies, I can help!
To your marketing success!
Merrill Clark
Website and Marketing Copywriter
Join my discussion by leaving a comment below…
5 ways to get more clients from your home page