Last week, I (probably you, too) saw the big, yellow phone books scattered on front lawns all over the neighborhood, stuck inside a wet plastic bag, waiting to be tossed in recycle bins everywhere.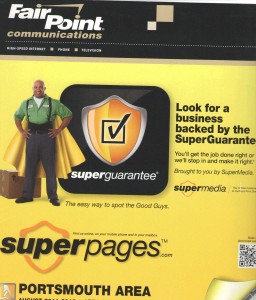 Did you ever try to read a wet book or newspaper? It's impossible, since it just falls apart.
But since I'm a marketing dude, I wanted to check out the Yellow Pages (I guess they're called SuperPages now), and see what was happening.
After a couple of days of drying on the kitchen table, I flipped through it.
.
I noticed a couple of important things:
A quick check of the total advertiser page count revealed a trend I've been watching, and predicting for several years.
.
.
There were 66 fewer pages of ads in the Yellow Pages, compared to last year. That's a considerable 15% decrease.
They're on a definite downward spiral. The biggest reason: I think, and studies show more people are searching for your local business, products and services online.
Think… Google, Bing, Yahoo, etc.
Every year – online search goes up – printed Yellow Pages ads go down.
It's easy to see what's happening. Not that I recommend advertisers dump printed YP ads completely, because I don't… but it may be prudent to invest in other types of advertising, too.
.
Yellow Page advertising isn't dead yet
There's still a certain age group, usually 60-75 years old, who still look for businesses in the printed YP. And the businesses that cater to those people should still have a presence there.
The other big thing that caught my eye:
Sadly, most of the ads still suck and won't get the response they should…
In any given profession, all the ads basically say the same thing. Just change the size, the color, and the company name. But nothing in the ads differentiate one company from another.
.

So why do the majority of ads suck?
(and waste advertiser money)

.
They depend on "branding" (getting your name out there)… Instead of an ad that gets a reader's attention, tells them why they're different, offers them something special, and tells them what to do next.
Most ads don't include a benefit or promise in their headline – instead they simply use their company name.
Most ads don't have an irresistible offer that gives readers a reason to call them. The only thing a reader can see is the size or the color of the ad.
Many ads lack a call to action that tells a reader what to do, and how to contact them.
Smart business owners and advertisers watch consumer marketing trends, and change strategy when necessary.
Do you advertise in the Yellow Pages?
And if you do, is it a profitable media for your business?
Let me know.
And if you'd like a no-obligation analysis of your ad, e-mail it to me with the subject line: FREE YP analysis
Leave me a comment below…
If you need help with website design, writing SEO optimized web copy, email marketing, or other online marketing strategies, I can help!
To your marketing success!
Merrill Clark
Website and Marketing Copywriter
Join my discussion by leaving a comment below…