Recently, my wife and I are talking, and out of the blue she says to me:
"I bet Billy Bob Biz owner could make more money by sending me a postcard to remind me that it's been more than a year since I got those expensive new hearing aids and they recommend getting a free hearing checkup every year."
She goes on to say: "Wonder how many of their customers defect to the competition because Billy Bob doesn't follow up?"
Disclaimer*** Billy Bob isn't his real name – gotta protect the business owner, you know.
In the meantime… she gets a shiny, cool offer in the mail from his competitor offering a…
You guessed it… a free hearing test.
A coincidence, you ask?
Maybe. But either way, she made a great point.
Most business owners don't follow up enough with their existing (and most profitable) customers.
Especially ones that have built-in buying patterns or consistency.
One easy way for your business to
lose your valuable customers
If you want your customers to abandon you and go to the dark side (your arch nemesis), don't stay in touch with them. Don't send them reminders when products or services are expiring or running out.
Too bad, because a follow-up strategy is usually easy to do.
And you can start now, even if you've never followed up with a  customer before.
Send your customers a reminder with a postcard or a letter.
Doesn't have to be fancy, but it does have to get their attention, provide a good reason to contact you, and tell them exactly what to do next.
Here are a three examples:
Auto repair shop: Send out a postcard reminder of an upcoming oil change or inspection, and they get a free widget
Dentist: Send out a reminder postcard when their 6-month checkup is approaching, and why they shouldn't ignore it
Computer repair: Send out letter or postcard when a client's maintenance agreement is about to expire, explaining why it's important to do so
Consistently staying in touch with your existing
customers or patients will result in higher profits
Why?
Make more sales
Set more appointments
Build stronger, longer-lasting relationships
Blow away your competition
And show your customers they ARE important, and you don't take them for granted
I can show you how you can take advantage of this strategy, and write a compelling message that will get your customers knocking down your door.
Simply get in touch, and let's talk about how consistent follow-up can help grow your business.
How does your business follow-up with customers? Or do you follow up at all?
Comment below –  I'd like to know.
.


Creating your own DIY website?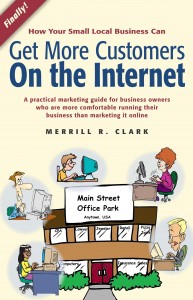 Do you or anybody you know want to set up a DIY website, but aren't sure about creating content or how to write better copy?
Pick up a copy of my book "How Your Local Small Business Can Get More Customers on the Internet" today! Paperback or PDF E-book.
Let me know your thoughts below…
If you need help with website design, writing SEO optimized web copy, email marketing, or other online marketing strategies, I can help!
To your marketing success!
Merrill Clark
Website and Marketing Copywriter
Join my discussion by leaving a comment below…