By Merrill Clark:
Business owners… This is very important.
I'm sure you're fully aware how important it is to maintain complete control and security of all of your business dealings and accounts.
Think about it like this. You wouldn't give full access of your banking account info to anyone without having proper safeguards in place, would you? Hopefully not.
But have you ever given thought about having complete control of your domain name registration, or your website hosting account?
I strongly advise you right now… If another company (i.e. web designer, consultant, etc) is in charge of your website, then you should at least know certain crucial information – a) so you know, and b) you have the control you'll need to make any changes if the need arises.
Here's a real-life example:
One of my clients just discovered that, without her permission or knowledge, her new SEO guy had moved her entire website and files to his own computer. (yep… a definite no-no… whatever happened to honesty?)
And, when she found out, the reasons he gave her were completely bogus. Not to mention she was still paying for her regular hosting account. She couldn't make any changes without going through him.  Completely unethical if you ask me.
Anyway, she can't trust him anymore, and now she has to change all of her passwords before he makes more unauthorized changes.  A pain in the ass, for sure…
Important website information you must know!
Get the account number, user name and password, and PIN for your hosting account
Know exactly where your website is being hosted
Make sure you're the registered owner of your domain name(s)
Make sure you're the primary administrative contact (with your email address) listed for your domain name
Know your administrative user name and password to access your domain's Registrar
(You can see what the current domain settings are at www.whois.com. Enter the domain name, It will show that it's "taken", then click the "whois" link.)
Summary:
If a low-life web guy is the administrative contact on your domain or hosting account, you'll have to deal with them to get the account contact information changed before they can even make any actual account changes.
And if you want to fire him, guess how that might go over with the bad guy. He might be so mad, he won't even give you the account password, and that would be bad for you.  Where's his incentive to help you now? Yea…right.
Shouldn't you, as the client, be able to change web vendors if you have to, without being run through the ringer?
Do you know what your website information is?
Comment below to let me know.
.


Creating your own DIY website?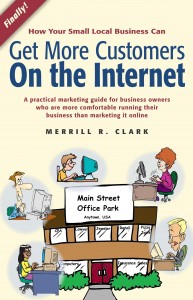 Do you or anybody you know want to set up a DIY website, but aren't sure about creating content or how to write better copy?
Pick up a copy of my book "How Your Local Small Business Can Get More Customers on the Internet" today! Paperback or PDF E-book.
Let me know your thoughts below…
If you need help with website design, writing SEO optimized web copy, email marketing, or other online marketing strategies, I can help!
To your marketing success!
Merrill Clark
Website and Marketing Copywriter
Join my discussion by leaving a comment below…