By Merrill Clark:
As a business owner or manager, I'm sure you know just how important it is to WOW your clients with excellent customer service.
Learn from my shockingly good (and bad) customer service from companies I would never have expected it from…
Customer service is what separates the men from the boys.
It's often the difference between keeping a valuable customer happy…or handing them to your biggest competitor.
I was recently blown away by the level of
customer service by two well-known companies
First… Thumbs-up for Miller-Coors' level of customer service
I was not happy when I bought a case of beer. When I took it out of my truck, the cardboard handle ripped off and it crashed to my driveway.
So I found a contact page on their website to let them know that their new packaging sucked
because it was so weak, and here's what happened next.
Pleasant surprise #1:
Got a reply next day with a 800 number to call and case #.
Pleasant surprise #2:
Called the 800 number, and within 2 minutes, talked to a guy who was genuinely interested in what happened. He asked a couple of pertinent questions, and said a check will be mailed out to cover the cost of the beer.
Pleasant surprise #3:
Two weeks later, I got a check in the mail with a "thank you" for being a customer and sorry about the problem (which they are looking into fixing).
Talk about GREAT service! And from a beer company of all things. They did everything they could to make me a happy customer – even more than I expected.
.

Next… Terrible customer service from the Better Business Bureau
I had a technical question about an online script they required I use on a client website, (that they write) so I emailed the only contact information I could find on their website.
No reply after 3 weeks, so I emailed again. Another 2 weeks passes and a guy replies that he can't answer the technical question so he'll pass it on to the IT dept.
Four more weeks pass with no resolution to a problem I have with a script they wrote.
So I email the same guy again, (yes, I was respectful and not an ass), and to this day have never heard back.
LOUSY customer service from a company that is supposed to be "business" friendly and smart.
Come to find out… not so much… Pretty disappointed.
What kind of customer service do you provide your customers and potential customers?
What exceptionally great or lousy customer service stories do you have?
I'd love to hear them.
The Big Takeaway:
If you want to see great customer service in action, contact a beer company, but if you want lousy customer service, try asking the BBB a question that doesn't involve you giving them any money.
Creating your own DIY website?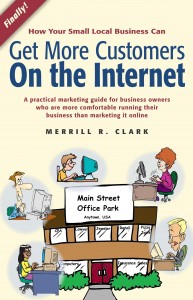 Do you or anybody you know want to set up a DIY website, but aren't sure about creating content or how to write better copy?
Pick up a copy of my book "How Your Local Small Business Can Get More Customers on the Internet" today! Paperback or PDF E-book.
Let me know your thoughts below…
If you need help with website design, writing SEO optimized web copy, email marketing, or other online marketing strategies, I can help!
To your marketing success!
Merrill Clark
Website and Marketing Copywriter
Join my discussion by leaving a comment below…