By Merrill Clark:
Web and Direct Response Copywriter
.
Nope. It's not a trick question. Understanding how important promises and setting expectations really are will help you keep more of your clients from jumping ship to your competition.
Just because you're a superstar in your field and do great work, your clients should love you and always be happy with you, right?
Um… maybe… but probably not, at least not all the time.
So why is it that your clients may be unhappy, or even downright pissed off, when you think they should be happy?
It's simple. Unrealistic expectations and broken promises.
You may have done a great job. But they expected it 2 days earlier than you promised.
You delivered – but you didn't deliver in the time promised. They expected it on Tuesday, not Thursday.
It doesn't matter one bit whether they needed it by Tuesday or not. It matters that you told them Tuesday, so that was their expectation.
So you must make sure you always fulfill your promises, or better yet, exceed them.
Business sense 101: Under promise and over deliver
That's what I strive for in my business by never making promises I can't keep, and often exceeding my client's expectations.
When you meet their expectations, they'll be happy. If you exceed them, they'll be ecstatic.
But if you don't meet them, they'll be pissed and go elsewhere.
The Big Takeaway:
Don't lose customers because you set high expectations and didn't meet them. Show them you care enough to fulfill every promise you make, every time.
So how do your clients rate your business, based on expectations and promises you make?
Let me know below…
Creating your own DIY website?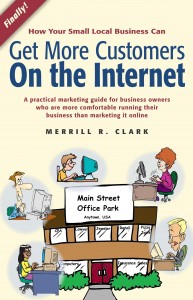 Do you or anybody you know want to set up a DIY website, but aren't sure about creating content or how to write better copy?
Pick up a copy of my book "How Your Local Small Business Can Get More Customers on the Internet" today! Paperback or PDF E-book.
Let me know your thoughts below…
If you need help with website design, writing SEO optimized web copy, email marketing, or other online marketing strategies, I can help!
To your marketing success!
Merrill Clark
Website and Marketing Copywriter
Join my discussion by leaving a comment below…